Town Branch is the Famous Creek that Runs underneath Downtown Lexington KY
Posted by Kim Soper on Monday, August 24, 2015 at 7:26 PM
By Kim Soper / August 24, 2015
Comment
Do you know that a little creek runs under downtown Lexington? Our town was founded in the late 1700s on the banks of Town Branch, which is a small fork of Elkhorn Creek. The first settlement was near what is now the intersection of Mill and Main streets in the heart of our downtown. The creek was seen as a steady supply of water and the reason Lexington was founded in this location. But by the mid 1800s there had been at least two major floods and subsequent outbreaks of cholera that cost hundreds of lives. People began to view the creek as a public health threat. Regular flooding continued to disrupt commerce and traffic flow into the 1920s and public sentiment was that the unruly water was blocking progress. Work began to cover up Town Branch with a bricked barrel vault enclosure in 1934. Now there is scant evidence of the creek downtown.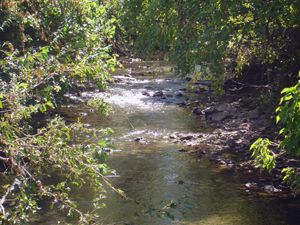 In recent years there has been talk of uncovering parts of the creek and there is also more interest in celebrating our natural resources. Town Branch flows unimpeded just west of downtown and there is even a two mile walking path along the creek. Town Branch Trail, which runs from Masterson Station Park behind McConnell Trace subdivision to Alexandria Drive and will someday connect all the way in to downtown.
Masterson Station and McConnell Trace neighborhoods are only a few miles from the center of Lexington. With the walking trail and the 600+ acre park, residents enjoy park-like living with the city nearby. Contact me to learn more about these neighborhoods.
Lexington Ky is always #1 in my book! Whether you want to buy a downtown condo, a custom walkout ranch on a golf course, or a horse farm in the country, I can help find the perfect home for you – as well as help you sell your home. In addition to Lexington Real Estate, I specialize in the nearby towns of Paris, Midway, Georgetown, and Versailles.