Meadowcrest Mansion in Lexington KY Will Soon Be Demolished And My Heart Will Forever Hurt
Posted by Kim Soper on Saturday, February 5, 2022 at 2:33 PM
By Kim Soper / February 5, 2022
Comment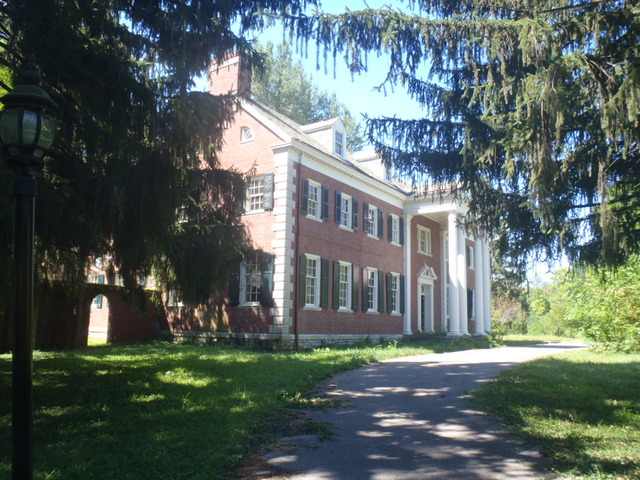 Below I am going to link a great read on this remarkable home in Lexington's Hamburg neighborhood. But before I do, let me tell you how sad I am that we are losing Meadowcrest Mansion currently standing at 2550 Winchester Rd Lexington, KY 40509. This is the large 1929 built mansion that sits right on the corner of Winchester Rd and Polo Club Boulevard. This beautiful home was built for Joesph Madden and his family. Although Joseph went to lavish extremes to make this fancy home a true homeplace, he never moved in due to his death a few months before the end of the home's completion. But his wife and children spent many years in this home. The home has been owned by the Cowgill family since May of 1999 and with it sitting on 85 acres right next to the interstate and of course in the mist of the Hamburg area, one could say it always had been planned to be torn down as the land value had become so pricey. Losing Meadowcrest will forever change the landscape of our city, espeically the Hamburg area as I bought my first home off of Polo Club and have lived in this near since after college.

I'll never forget the night my friend Jim Perry and I were going to tour Meadowcrest Mansion. We went over to The late Preston and Anita Madden's home to retrieve the key to see Meadowcrest, but we ended up staying at Preston and Anita's home all night! They could out party all of us. They wanted to celebrate their $185 million dollar record land sale in Lexington which still stands today. I'll link the blog post about my night with Preston and Anita Madden below if you are interested. Preston told us Meadowcrest Mansion had wallpaper that was purchased in New York City during the Great Depression and there was a bowling alley in the basement. A year later I visited Meadowcrest and met the renter who was renting the carriage house and he showed me around. He said the heating and cooling system inside of Meadowcrest had been shut off years before which led to the deterioration of the inside of the home. He was super nice showing me around and he collected agates and polished them into incredible beauties. I had no ideal the most sought after and prettiest agates with the most vivid colors were found in Kentucky in the Estill County and Lee County regions of Kentucky.
I'm heartbroken over the upcoming demolition of Meadowcrest. As of today as I type this - February 5, 2022, the carriage house has come down and cranes are butting up next to the main portion of Meadowcrest. With a demo permit filed, it will be a matter of time before she is left to mere rubble. They don't make homes like this anymore and losing Meadowcrest will always leave a hole in my heart. She could have been saved and been the centerpiece of that side of the Hamburg development. She's a beauty!
Links releated to Meadowcrest Mansion at 2550 Winchester Rd Lexington, KY 40505
Click here for Part 1 of the Final Tour of Meadowcrest Mansion
Click here for Part 2 of the Final Tour of Meadowcrest Mansion
Click here for Part 3 of the Final Tour of Meadowcrest Mansion
Gardens and Gables - Wrecking Ball Watch / History of Meadowcrest Mansion
Kim Soper - Anita Madden Dies at 85. Will Never Forget Meeting her in Hamburg Place
Kim Soper - Famed Horse Farm Owner and Lexington Developer Preston Madden Dead at 85
About the Author: Kim Soper is a lifelong Lexington KY resident and Co-Founder of Better Homes and Gardens Real Estate Cypress. She has over 18 years experience selling real estate all over Lexington KY and the Central KY areas. Kim is the manager/Realtor of ExploreLexingtonKY.com - Home to Your Best Source for Lexington KY Real Estate!