Lexington KY Residents Get Healthy at Weekly Juicery
Posted by Kim Soper on Monday, February 16, 2015 at 4:02 PM
By Kim Soper / February 16, 2015
Comment
If you've set a goal to eat healthier this year, then check out the Weekly Juicery in Lexington Ky. Most people know that juicing is an easy way to add more fruit and vegetables to your diet. However, actually making the juice can be tedious. The process of buying, washing, peeling, sorting and chopping can cause most people to give up. And juicing machines are not cheap.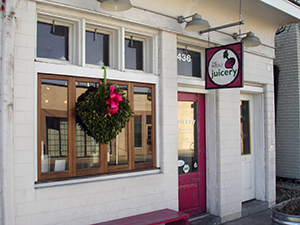 The Weekly Juicery not only makes the drinks for you – they deliver! Customers sign up for subscriptions with delivery plans from three to six days a week. The shop creates amazing concoctions with great names such as Sweet Beet Punch, Pineapple Passion, Spicy Carrot Cider, and Cool Kale Energy. You can choose your favorite flavors each week or be surprised by random offerings.
Stop in to the store on Old Vine Street to pick up a bottle or two, and to learn ways to improve your health. The staff is enthusiastic about plant-based diets and can help you choose products designed to detox, refresh, or energize.
The Weekly Juicery in Lexington Ky is in a commercial area on the east edge of downtown surrounded by some great neighborhoods. Local residents walk to restaurants, gyms, banks, and several parks. Bustling Main Street with its art galleries, the main library and Kentucky Theater are all a mere ten minute walk away.
There are 24 homes for sale within a half mile of the juice shop, ranging from an $85,500 condo to a $1,999,000 estate. Contact me for more details.
Lexington Ky is always #1 in my book! Whether you want to buy a downtown condo, a custom walkout ranch on a golf course, or a horse farm in the country, I can help find the perfect home for you – as well as help you sell your home. In addition to Lexington Real Estate, I specialize in the nearby towns of Paris, Midway, Georgetown, and Versailles.