Lexington, Kentucky Is Embarking on Most Exciting Weekend of Year
Posted by Kim Soper on Friday, April 15, 2011 at 7:28 AM
By Kim Soper / April 15, 2011
Comment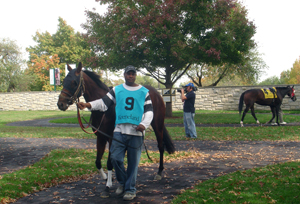 There is so much to do this weekend, as Lexington will be the hub of entertainment & tons of fun. I have lived here in Lexington my entire life and I have to say, this weekend year after year seems to be the most exciting weekend during the entire year. It is Bluegrass Stakes weekend and there are so many things to do, see and experience. This weekend is all about horse racing, honoring Kentucky's Bourbon heritage and wearing fancy hats while socializing with friends! How exciting to know my City is once again hoppin' on this favorite weekend of the year! So giddy up, here are the top events and social happenings in Lexington this weekend. In no particular order, let's go:
**Friday, April 15, 2011**

1. Maker's Mark Bottle Signing - Bottle signing will be held at 6:30 a.m., trackside at Keeneland.

Bottles went on sale on Friday, April 8, at retail liquor stores across the state. They were dedicated to the 75th anniversary of Keeneland race track. Please contact your local retailer for more specific information; bottles are not sold at Keeneland. Bottles are signed by University of Kentucky President Lee T. Todd Jr., Keeneland President & CEO Nick Nicholson, Maker's Mark President & CEO Bill Samuels Jr., incoming Maker's Mark President Rob Samuels and retired Keeneland President Bill Greely. Free wax dipping of select merchandise purchased from the Keeneland Gift Shop will be featured. All proceeds from the sell of the special bottle go to the supporting of the University of Kentucky School of Music education - outreach project. This project is instrumental in bringing UK performing groups and music appreciation workshops into elementary schools and communities through the state of Kentucky.
2. Maker's Mark Mile - Grade 1 Stakes race and the featured race of the day. The Maker's Mark Mile is for 4 year olds and up going 1 mile on the turf course. Purse is $300,000 to the winner and thousands to be won by those who can predict the big winner. Keeneland's first post time is 1:15. The featured race is later in the afternoon.
3. Lexington Charity Club's First Annual Bar Hop to benefit the Make-A-Wish Foundation - Proceeds to benefit the Make-A-Wish Foundation. Lexington Charity Club member Simon Palmer says "a lot of effort has been put towards making this a very fun event. I've been looking forward to this block party for the last couple of weeks. All of my friends have been talking about it and what a great way to help the Make-A-Wish Foundation" said Palmer. This event will take place in downtown Lexington on Friday, April 15, 2011 from 8pm-2am.
A $5.00 ticket will gain you admission into the following bars: Penguin, Blue Agave Cantina and Tequila Bar, The Chase Taproom, De Vassa, The Loft, The Horse and Barrel, Rosebuds, Silks, Cheapside Bar & Grill, Wildcat Saloon, Bluegrass Tavern, Redmons, Hugos, Harvey's, McCarthy's, Bellini's and SKYBAR Lexington. There will be drink specials at all of these establishments and there will also be live music in the 5th/3rd Pavilion all night long. For ticket information contact Simon Palmer at (859) 333-1558.
4. Maker's Mark Ambassador Party - The Thoroughbreds & Redheads Party will take place Friday night in downtown Lexington and will be the official retirement party of Chairman Emeritus Bill Samuels. The Ambassador event will benefit this year's charity, The Center for Women and Families. A total of 100% of the proceeds from ticket sales will go to the Center. Maker's Mark Ambassadors were sent information on the party.
**Saturday, April 16, 2011**
5. Breakfast with the Works - Get in on the action and watch the horses during their morning work-outs all while enjoying a big southern style breakfast in the track-side Equestrian Dining Room. Tons of food and free children's activities including photos in jockey silks face painting and lots more. Breakfast from 7:00 -8:30 a.m. Adults $7 and kids 3 and under free. Paddock demonstration related to the Equine industry starts at 8:45 a.m. in the paddock.
6. Jockey Q & A - Now is your chance to learn what it is to be like a jockey or how they plan their daily routine and what happens during an actual race. Keeneland's jockey colony will join TVG, a national television network, for an informal Q & A session live in the Paddock. Starts at 12:05 p.m.

7. Toyota Bluegrass Stakes Day Race - a big whopping $750,000 is on the line to the winner and thousands more to those who can predict the winner. No prep race has produced more Kentucky Derby winners than the 23 who came out of Keeneland's Blue Grass Stakes. This is THE feature race to the Kentucky Derby.
They say whoever wins this race is the hands-down favorite to win the Derby. Post time for the first race runs at 1:15 with the stakes race later in the day. Race will be featured live on NBC and TVG. Visit www.ToyotaBluegrassStakes.com for more information about the day.
8. Thunder over Louisville - So not in Lexington, but this is a great event for all of Kentuckians and is part of the Derby Festival. This is the largest fireworks display in the entire world and is considered the opening event for the Kentucky Derby. The day starts early with over 60 military aircraft flying the airways all day. At dusk, the firework show begins and last for about 30 minutes. They are seen by approximately 1-million U.S. Armed Forces, Department of Defense civilian employees and their families stationed in 176 countries and aboard 140 U.S. Navy ships at sea via a July 4th rebroadcast on the American Forces Network, it is the state's pride. A Discovery Channel documentary on fireworks shows says it best, "Thunder is the Grand-daddy of them all!
**Sunday, April 16, 2011**
9. Military Appreciation Day at Keeneland - 900 troops from Fort Knox will be guests of Keeneland. All active and inactive members of the military and their families will receive free general admission with military ID. Soldiers will have access to a phone bank, courtesy of Windstream Communications, to call their loved ones. First post time is 1:15 p.m.

What a weekend. Get your fancy hats, your party shoes and your lucky bets. It is going to be a rockin' good weekend! See you at the track!
Lexington KY is always #1 in my book! Whether you want to buy a downtown condo, a custom walkout ranch on a golf course, or a horse farm in the country, I can help find the perfect home for you – as well as help you sell your home. In addition to Lexington Real Estate, I specialize in the nearby towns of Paris, Midway, Georgetown, and Versailles.