Lace up for Ice Skating Downtown Lexington Among the Bright City Lights! Tips from a Skater!
Posted by Kim Soper on Tuesday, January 10, 2012 at 9:01 AM
By Kim Soper / January 10, 2012
Comment
You may not be an Olympic skater or feel anything like one, but there is hope! Lace up those skates and get downtown to Triangle Park to experience the new Unified Trust Company Ice Rink. I did and I felt like a skating rock star (even if I didn't look like it). Granted it is not the normal cold we usually have so I thought there wasn't a better time to experience this winter sport minus having to freeze.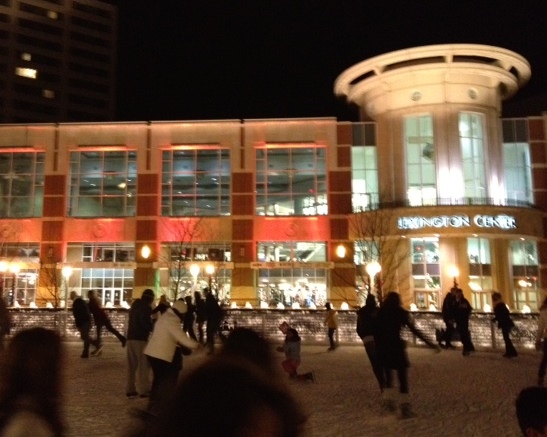 First thing is first, wear layers and then pay your $10 to get your skates. Lace those babies up good, real good and tight and then try to stand! The first time you feel like you have bricks on your feet but you will soon get the hang of it. I grew up in the era of roller rinks and big hair, the 80s, so skating wasn't new to me, but ice isn't my forte! I tried to incorporate some of the basic skating principles I mastered in roller skating. Just glide on the skates, do not push and let the skates work for you. Start with small strides. I skated for 2 hours and didn't have a single fall because I applied those basic moves! If I can you do, so can you!
In my opinion, the most importantly factor is just going at your own speed. Do not follow others who are showing off the graceful spins or gliding backwards. Simply just do your own thing. And before you know it, you will have the confidence to pick up your speed a bit. If you feel like you are starting to lose your balance, try to position yourself in the opposite direction such as if you feel yourself falling forward, simply lean to the right and to the left and try to put that weight back on your hip.
Take your family, your friends and go check out Lexington's newest skating hotspot. You will love skating amongst the city skyline and the bright city lights. And while you will not leave skating like a gold medal Olympian, I promise you will have a fun night on the town! For more information click here!
Lexington KY is always #1 in my book! Whether you want to buy a downtown condo, a custom walkout ranch on a golf course, or a horse farm in the country, I can help find the perfect home for you – as well as help you sell your home. In addition to Lexington Real Estate, I specialize in the nearby towns of Paris, Midway, Georgetown, and Versailles.