Kentucky's Hall's on The River is a great Place to Dine!
Posted by Kim Soper on Saturday, September 4, 2010 at 9:17 PM
By Kim Soper / September 4, 2010
Comment
I recently joined a couple of friends for dinner at Kentucky's famous restaurant - Hall's on the River. This legendary place truly does sit next to the river and if you sit on the covered deck, you will have a great view of the Kentucky River! Hall's is just minutes from Lexington and is near the historic Fort Boonesboro. Hall's is definitely a family friendly place to check out. They have tons of seafood options and many down home Kentucky local favorites. I especially love the beer cheese, which Hall's makes daily and they are famous for. You will see Hall's beer cheese products all over Kentucky. I would know as I love this stuff. Hey, all good Kentuckians love beer cheese! I so had to try the beer cheese soup along with my meal. I wasn't disappointed. Only if I could make that stuff at home. Guess I will just have to go back Hall's. I hear they do have fried Oreos now!!
Check out these pictures from Hall's and see pictures of the Kentucky River, my view while dining at Hall's. Notice the dirt on the trees. That is just how far the river rose during the great floods of May 2010.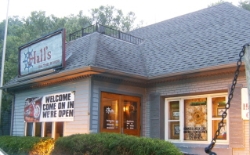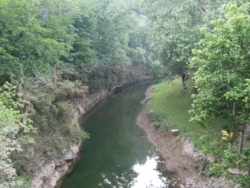 Lexington KY is always #1 in my book! Whether you want to buy a downtown condo, a custom walkout ranch on a golf course, or a horse farm in the country, I can help find the perfect home for you – as well as help you sell your home. In addition to Lexington Real Estate, I specialize in the nearby towns of Paris, Midway, Georgetown, and Versailles.