If Walls Could Talk, Kentucky Basketball Coach Matthew Mitchell Scores Rick Pitino's Lexington Home!
Posted by Kim Soper on Wednesday, August 29, 2012 at 10:09 AM
By Kim Soper / August 29, 2012
Comment
So as an ironic twist of Lexington real estate fate, one of the most talked about homes once owned by a former Kentucky basketball coach is once again owned by the current Kentucky basketball coach. My inside sources are telling me that current University of Kentucky Women's Basketball Coach Matthew Mitchell and his family just closed on their brand new Lexington KY home at 871 McMeekin Place here in Lexington, KY 40502. Yes, that is right,*the* McMeekin Place home once owned by former Kentucky coach Rick Pitino!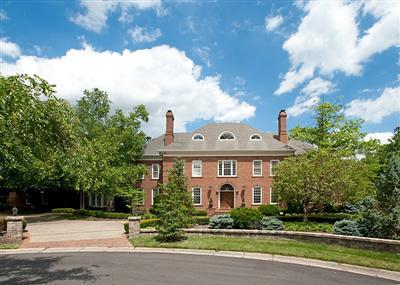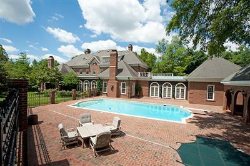 No diggity, no doubt! How ironic right? From one coach to the next, this home has to be full of basketball stories! Too bad walls don't talk! Let's be clear, Pitino has not owned the home since 1998 but everybody knows 871 McMeekin Place in Lexington will always be known as the Pitino house. This stately "inside the (new) circle" mansion stands tall with over 10,000 finished square feet, 6 bedrooms, 10 bathrooms (one of every member of the starting lineup & reserves) a most awesome swimming pool & pool house, basement with theater room, game room, exercise room, oversized wine cellar and so much more. The home underwent an extensive renovation from 2003-05 after Lexington lasik eye doctor Thomas Abell (who bought the home from Pitino) had sold it. At that time in 2003, the new owners brought in more of the finest materials from around the world and one of the finest architects in America, famed Chicagoian Steve Rugo to redesign this stately Georgian style manor.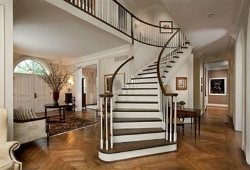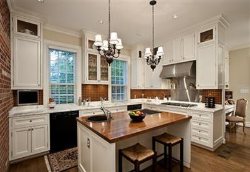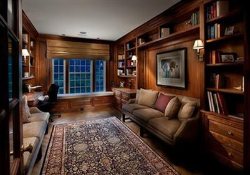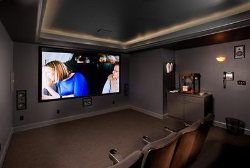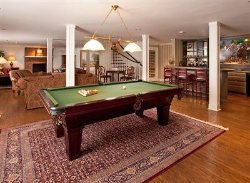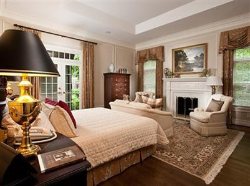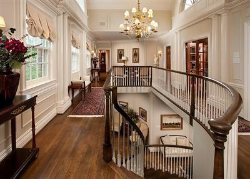 (All pictures courtesy of Prudential A.S. de Movellan, listing office)
Mitchell and his family are leaving behind their Lexington Hamburg area home and moving a lot closer to campus. Coach Mitchell is such a cool guy. In the past, him and his wife Jenna welcomed the players and coaching staff over to their Hamburg area home in Tuscany neighborhood for dinners and simply just for hanging out with the team. The centrally located McMeekin Place neighborhood is totally ideal for accessing the Kentucky campus in less than a full time out. He just just a short basketball dribble away from campus. So close is the McMeekin Place neighborhood, that the backside of McMeekin actually boarders onto the greenspaces at the Lexington Arboretum next to Commonwealth Stadium, the home of the Kentucky Wildcats football team.
I am happy for Mitchell and his family. They scored an iconic Lexington home with tons of history. It was in 2009 that I ran an insiders story on the 5 Most Talked About Homes in Lexington, KY and this home was on that list! I remember reading an article in the Lexington Herald Leader during the early 1990's, that stated Kentucky fans would drive to this home just to collect a dirt sample out of the front yard. Any home in Lexington that is famous just for the front lawn and rich Kentucky soil, has to be special!
I have sold homes to notable Kentucky coaches and players in my day, but since I wasn't Mitchell's Realtor, I can't say for sure that Mitchell bought the home. However, if my sources are on their game - and they usually are - the coach paid $2,060,000 for the home, down from the latest asking price of $2,501,000. That new contract extension looks like it is working out pretty well and Cat fans around the state have to be thrilled that Mitchell is laying his roots (even moreso) and hanging out in Big Blue Nation for many years to come. He is a great person, great coach and well respected by all. A true class act and Kentucky is lucky to have him. Going to be a great season. Let's go Cats!
Lexington KY is always #1 in my book! Whether you want to buy a downtown condo, a custom walkout ranch on a golf course, or a horse farm in the country, I can help find the perfect home for you – as well as help you sell your home. In addition to Lexington Real Estate, I specialize in the nearby towns of Paris, Midway, Georgetown, and Versailles.