Hot Summer Day in Paris, Kentucky but Toured a One-of-a-Kind Historic Home!
Posted by Kim Soper on Tuesday, August 10, 2010 at 7:07 PM
By Kim Soper / August 10, 2010
Comment
Today, was just another hot summer day in the heart of horse county. Topping at 95 degrees it sure made you want to stay inside and work. However, I am a total summer girl and I love being outdoors. I am the kind of person who loves to roll down the car windows and just go! No need for AC in the car. I love to embrace nature's beauty and take in the fresh air.
On this hot Kentucky day, I drove down my favorite road in the entire state, Paris Pike, which is the main road connecting Lexington, Kentucky to Paris, Kentucky. To read more about this road, click here and see why it is so special.
I had an appointment in Paris (Bourbon County). The home I toured today was beautiful. The home was built in 1869 and played a huge role in the horse industry. That is really all I can say right now, but check out these two pictures I snapped on my visit. More details will be forthcoming very soon!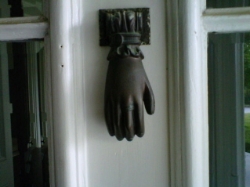 (Above is the Door knocker. Home built by father & given to son as a wedding gift)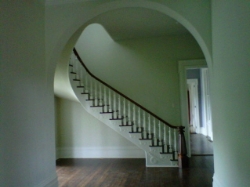 Tomorrow looks to be yet another busy day. I will be meeting with some clients who just recently purchase a horse farm in Lexington, Kentucky. We are meeting with the inspector tomorrow to make sure the home gets a clean bill of health. Another busy day and school starts back tomorrow here in Lexington-Fayette County. Better leave a few minutes early to beat the back to school traffic rush! Good thing I love my job & summer heat! If you watch the national news, they say real estate is dead. It is far from dead here. It is hot, hot, hot!! Great time to be in the market and lots of deals around every corner. If you are looking for a home or need the perfect place for your horses, call me today. I will put you on the right track to finding your dream place!
Lexington KY is always #1 in my book! Whether you want to buy a downtown condo, a custom walkout ranch on a golf course, or a horse farm in the country, I can help find the perfect home for you – as well as help you sell your home. In addition to Lexington Real Estate, I specialize in the nearby towns of Paris, Midway, Georgetown, and Versailles.