Have You Visited Ruth Hunt Candies in Lexington KY?
Posted by Kim Soper on Monday, October 26, 2020 at 10:00 AM
By Kim Soper / October 26, 2020
Comment
Looking for a different way to brighten up Halloween during the pandemic? Or do you want to send a taste of Kentucky to out-of-state friends? If so, pay a visit to Ruth Hunt Candies in Lexington Ky. Located at 213 Walton Ave Lexington, KY in the 40502 area, this store is well-stocked with tempting delights for anyone with a sweet tooth. Bourbon balls are the classic confectionary in the Bluegrass and this store offers you a choice of original, caramel and even mint julep bourbon balls. Customers can even select candies made from top-shelf Woodford Reserve.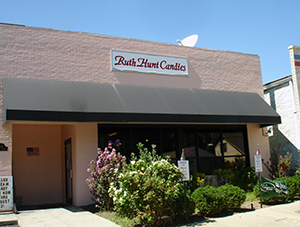 The treats at Ruth Hunt Candies are deliciously varied including both dark and light chocolates, and feature tasty ingredients such as coconut, ginger, molasses, peppermint, orange peel, and even several sugar-free options. Signature creations can be found in the well-known Cream Candies or Blue Mondays. Customers must surely struggle to decide among turtles, melt-aways, English toffee, chocolate covered twinkies, peanut brittle, milk balls, and taffy.
The sweet shop was founded in 1916 in Mount Sterling, which remains home to its main store and candy factory. The company uses special chocolate freshly made in Ghana, where the beans are grown.
The Lexington location on Walton Avenue is near a residential area and close to the bustling Warehouse Block commercial development. This exciting collection of restaurants, gyms, a hair salon, jeweler and much more, is attracting a lot of attention as it continues to add tenants. Homes in the area are typically 100-year old bungalow homes, as well as some recently constructed townhouses. Homes for sale within a half mile of Ruth Hunt Candies in Lexington Ky include some in Kenwick, Bell Court, and downtown.
Contact me via email or give me a call anytime at 859-509-8008 and we can chat about these cool hip locations right in the heart of Lexington.
About the Author: Kim Soper is a lifelong Lexington KY resident and Co-Founder of Better Homes and Gardens Real Estate Cypress. She has over 16 years experience selling real estate all over Lexington KY and the Central KY areas. Kim is the manager/Realtor of ExploreLexingtonKY.com - Home to Your Best Source for Lexington KY Real Estate!