Common Grounds Coffee Shop - a Lexington Ky Landmark!
Posted by Kim Soper on Sunday, November 2, 2014 at 3:27 PM
By Kim Soper / November 2, 2014
Comment
One of the many things that make Lexington Ky so special is our locally owned businesses - all of which add to the flavor and quality of life here. Founded in 1992, Common Grounds is the oldest and largest local coffee shop in town. The owners recently added a fourth location and a mobile coffee truck.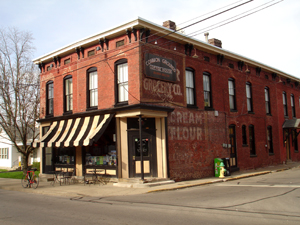 All of the outlets serve fresh, locally roasted coffee, smoothies and iced coffee drinks. Some stores also serve food. The original shop, at 343 East High Street downtown, has a young hip vibe with couches and various seating areas including several cozy rooms and a patio. Each Monday, East High has an open mic night where Lexingtonians perform music, read poetry, and provide other creative and original entertainment.
The newest Common Grounds is in the Zandale Plaza and has the added bonus of a drive-thru. Zandale Plaza can be found at Nicholasville Road and Zandale, a couple miles south of downtown. This area is an ideal location if you are looking for a home close to shopping and many restaurants, and convenient to the University of Kentucky, Central Baptist Hospital, and St. Joseph Hospital.
Area neighborhoods are Deerfield, Edgemoor, Glendover, Malabu Terrace, Regency Point, Tahoma Terrace, and Zandale. If you are planning to buy a home in Lexington Ky, I will be happy to tell you more about the Zandale area.
Lexington Ky is always #1 in my book! Whether you want to buy a downtown condo, a custom walkout ranch on a golf course, or a horse farm in the country, I can help find the perfect home for you - as well as help you sell your home. In addition to Lexington Real Estate, I specialize in the nearby towns of Paris, Midway, Georgetown, and Versailles.