Check out Spaldings Bakery - The Best Doughnuts on the Planet since 1929!
Posted by Kim Soper on Thursday, October 1, 2009 at 10:56 AM
By Kim Soper / October 1, 2009
Comment
Today I spent the morning at Lexington's famous Spaldings Bakery and let me tell you, I'm so ready to go back and its only lunchtime…..bad news for me though - it's 12:20 p.m. and they are already closed! And that is not surprising. Spalding's, a Lexington doughnut institution since 1929, is by far the most beloved bakery in town and there is a reason why. It's all about supply and demand. Come early, very early, wait in the long line and if you're lucky, you will score some sugary goodness. And when they run out of the baked goods, the doors close, so get there early!! Sorry about your luck if you didn't roll out of bed early enough.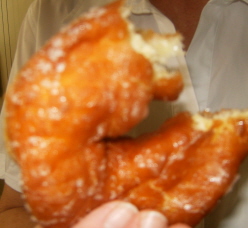 We think the Spalding family knows a thing or two about making a doughnut, so good -that they literally melt in your mouth. Each morning, as the Spalding family arrives at the bakery, they begin whipping up their secret family recipe for their glazed heavenly pieces of goodness, cakes, homemade rolls and other sweet sugary goodies. When the goods are baked to perfection and the doors open, the bakery is greeted by a long line spanning around the building. Even in the middle of winter, that big line is present every single day! Everyday but Tuesday, as Spalding's is closed. That tradition started tradition during World War II due to food rationing. "We started closing during the war and never stopped, "says Martha Edwards, owner & granddaughter of the founders.
Once you roll into Spalding's, it's like a flash back in time. Everything about the place is so retro and without question reminds us of the rustic nostalgic feel of a very old bakery. Up until recently, they still used an old school 1905 cash register from the store's early years. You can still see it, as it proudly sits on display and check out all the old school pictures of the bakery from over the years. While I was waiting in line, owner Martha Edward showed me a picture of a wedding cake she had made 50 years ago. She was telling me how this weekend; she is baking that very same cake for the couple's 50th wedding anniversary. After that story, I purchased a double chocolate devils food cake, along with my doughnuts.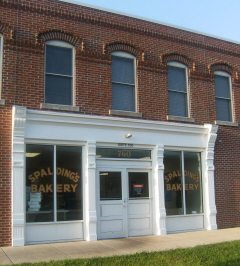 The bakery goodies, the atmosphere and the stories are what drive people in groves to Spalding's. And when you visit, don't forget your cash, as they don't accept credit cards.
Spalding's is no hidden gem. They recently received national acclaim for making some of the tastiest doughnuts in the country. So if you're ready to taste a doughnut out of this world, check out Spalding's located on Lexington's Winchester Road. I might just see you there!