Check Out Hop Cat in Downtown Lexington KY
Posted by Kim Soper on Tuesday, December 15, 2015 at 10:00 AM
By Kim Soper / December 15, 2015
Comment
It's time to get back in the flow and visit some of downtown Lexington's favorite hotspots. One of those is Hop Cat, one of the top beer bars in the nation which is located downtown Lexington at Short Street just off Broadway.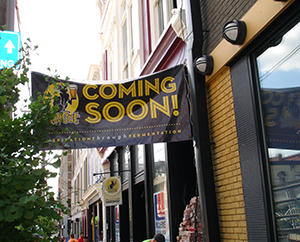 The franchise specializes in offering a wide assortment of craft beer on tap. In fact, they have one of Kentucky's largest selection – over 100 taps! The many choices include a wide range of regional, Belgian and global craft beers. By the way, craft beers are small batch beers produced by microbreweries that are almost always small independent operations. This is not the beer of large corporations! The bar also has a small menu offering classic favorites like wings and pizza as well as more unusual fare including seared tuna and bruschetta.
Hop Cat was founded in Lansing Michigan in 2008 and now has six locations. The company prides itself on being environmentally conscious by reducing waste, recycling, and even composting.
If you live downtown, you could walk to Hop Cat, as well as enjoy the nearby Lexington Opera House, Rupp Arena, and a multitude of bars and restaurants offering good food and various nightlife and entertainment options. This area is walkable from several neighborhoods including Gratz Park, Woodward Heights, and UK Campus. And there are many residential properties for sale downtown as well. Click the links for details then contact me to learn more about living in the heart of Lexington!
About the Author: Kim Soper is a lifelong Lexington KY resident and Co-Founder of Better Homes and Gardens Real Estate Cypress. She has over 18 years experience selling real estate all over Lexington KY and the Central KY areas. Kim is the manager/Realtor of ExploreLexingtonKY.com - Home to Your Best Source for Lexington KY Real Estate!